07/21/2023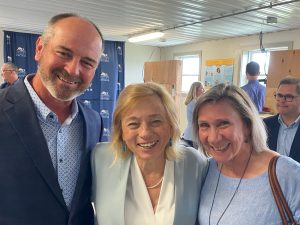 :  Governor Janet Mills announced that Maine has  surpassed its goal of installing 100,000 new heat pumps, two years ahead of time. Governor Mills signed legislation in 2019 establishing the target of 100,00 heat pumps by 2025 and enhanced heat pump rebate incentives through Efficiency Maine. About 104,000 heat pumps have been installed to date.
Governor Mills announced the milestone at Kennebec Valley Community College. The governor was joined  by White House National Climate Advisor Ali Zaidi, Michael Stoddard, Executive Director of Efficiency Maine, and our own Scott and Tracy Libby, owners of Royal River Heat Pumps.
Governor Mills also unveiled a new target: installing another 175,000 additional heat pumps in Maine by 2027, thereby bringing the number of heat pumps installed in Maine homes, businesses, and public buildings during her time in office to 275,000. If this target is achieved, Maine would have more than 320,000 heat pumps in total installed across the state. Royal River Heat Pumps stands behind this goal.