09/14/2023: We could not be more pl eased with our heat pump system. We have a regular heat pump and two wall mounted units. They really cut our heating costs! Jay stopped in and gave an excellent explanation on how to operate the system. He was very professional and respectful. He was so patient with us two Seniors who knew nothing about our purchase. His professional knowledge was superb and he did a very extensive run through. If you are looking for a very reliable system sold and installed by an honest business then Royal River Heat Pumps is for you.
Gary S.
09/08/2023: If you want a heat pump system, these the guys. This business was strongly recommended by our neighbors, but I found their on-line reviews to be so outstanding as to be slightly suspect; no one is that good. Do not be suspicious! They are that good! Larry came to our home and did a most thorough and professional walk-through, designing a system for us that assuaged my wife's fears that the house would look steam punk. The installation was flawless, led by a soft-spoken gentleman named Pete. Then, to top things off, we had an instruction session that saved me from having to look at the manual (I am an American male; I hate manuals).
History Buff
9/1/2023: Royal River Heat Pumps installed a new heat pump in our home. They weren't able to schedule a home visit for several months but they always kept to each of the project dates with advance notice. All aspects of the installation were done in a professional manner and the crew was both informative and friendly. I also appreciated the follow up appointment to answer questions I had after having a chance to operate the system.
Woody S.
08/08/2023: We had Royal River Heat Pumps install a new Mitsubishi 15,000 BTU heat pump in our home in 2021, and have been incredibly pleased with it. The staff are always professional and pleasant to work with when we call. We trust the work they do and have recommended friends and family to them. The service technicians are passionate about their work and very knowledgeable with the Mitsubishi products.
Zach C.
7/19/2023: We just had two heat pumps installed at our business location by RRHP and the service from start to finish was outstanding. The pricing was inclusive and straight-forward, and they assisted with the Efficiency Maine rebates.

We expected to use the heat pumps to support an aging traditional oil fueled HVAC system, but on the second day following install, the heat pumps were so effective that we completely shut the HVAC system off.

I've also used RRHP for residential heat pump installation and service for the past 6+ years and they have consistently provided professional, knowledgeable, and outstanding service.

I highly recommend Royal River!
Milestones FCU
5/22/2023: Great company to work with from start to end. They went above and beyond to meet our needs. Highly recommend and we'll certainly use their services again.
Paco T.
05/10/2023: We are very pleased with our new system. Granville and the team did a great job and Jay was extremely helpful in explaining how to operate the system. And all the members of the installation team uniformly said what a great company it is to work for. That is a real testament to the company you have built.
Best wishes
John P
John P.
04/28/2023: Royal River did an excellent job installing heat pumps in our 18th century cape. Their team was friendly and professional, and the quality of their work is exceptional. Our old house can present a number of issues for projects, but they were experienced and able to complete the job on time and as estimated. We'd definitely recommend Royal River in the future.
Michael C.
04/27/2023: I was impressed...and I am not easily impressed! The level of communication, professionalism, and service was centered on us, the customer. From receiving the initial analysis to the tutorial after installation, every aspect was planned and executed with forethought and attention to details. I would recommend them without reservation or hesitation!
Bruce L.
4/18/2023: We are glad we chose Royal River Heat Pumps for our project. The System Designer gave us ample time to fully understand the best configuration for our needs. The install team was exceptional in their workmanship and knowledge of the Mitsubishi components. The Close-Out Specialist was very helpful in fine-tuning our settings and reviewing best heat pump practices. Excellent experience all-around with the office staff, designer, install technicians, and on-going support.
David M.
4/1/2023: Had our heat pumps installed, we are very satisfied with work and professionalism! They worked in a blizzard, got the work done efficiently and without a complaint! The work and operating the system were explained thoroughly
Mary Anne C.
3/30/2023: We have been very pleased with Royal River Heat Pumps. Every aspect of our installation was professionally addressed, and each step has gone as planned. There installers were attentive to detail in every way resulting in a beautiful installation - even taking care to keep the March mud and snow outside. I got the basic training on how to properly use the system and so far it has functioned perfectly. It has been an excellent experience overall.
Greg E.
3/14/2023: We could not be more pleased with our new heat pumps from Royal River. From the very first phone call to Jay's tutorial we were so impressed. The quality of work from our installation team was next to none...highly skilled, thorough and conscientious. Royal River also took care of the rebate process with Efficiency Maine which was so helpful. I would highly recommend making that call.
Ellen
1/27/2023: Just wanted to thank the entire crew led by Travis. Everyone was so professional, polite, and respectful. My questions were answered fully. Having Travis oversee the installation, design and coordinating with the electrical that needed to be done was key. The entire experience from booking, implementation, billing and follow-up was great and I'm happy with the heat pumps thus far.

Have a great weekend!

Stacey
Stacey C.
1/25/2023: Our heat pump stopped producing heat. They were here within an hour and tested the lines, found a leak and replaced the lines. They stand behind their work!
Robert S.
1/5/2023: The Royal River installation team and the post installation briefing by their closing specialist, Jay, were excellent in every regard. I highly recommend Royal River for heat pump systems.
Lynn B.
12/21/2022: We were very pleased with our entire experience with RRHP. The estimate was detailed and reasonable, the office staff kept us informed of our appointments and the installation by the cheerful crew was efficient. The follow up visit by Jay was very helpful to answer our questions and to ensure that we understood the operation of our pump. I would give them more stars if I could.
Karen F.
12/7/2022: Great customer service and professional installation. The tutorial for the systems after installation is a great touch.
Ryan G.
12/3/2022: Positive: Professionalism, Punctuality, Quality, Responsiveness, Value
Royal River installed three heat pumps for us in the spring of 2022. From the estimation process through the final installation to the follow up customer service, Royal River's employees were professional, courteous, and extremely helpful. Our systems have performed flawlessly - keeping our home cool in the summer and warm in the winter. Whenever we have questions with regard to use or settings, a Royal River representative not only responds in a timely manner with helpful and accurate information, they follow up with phone calls to be sure we are satisfied with the results. We highly recommend Royal River River Heat Pumps as your heat pump provider.
Carol L.
11/2/2022: Royal River just installed a heat pump in our home. From obtaining an estimate to installation, they were prompt and stayed on schedule. Additionally, unlike other vendors when providing a quote, they provided all installation options such as using a remote thermostat (critical for me) and the availability of an app to control the heat pump from away through wifi (a convenience that I desired). Pricewise, they were marginally more expensive than another vendor but the quality of service and the completeness of the quote made the few extra dollars well worth it.
Denis R.
9/8/2022: The professional and courteous crew showed up and set to work right away. Excellent quality of workmanship and pride in their work yielded a beautiful installation. The Mitsubishi unit they installed is the quietest and best performing A/C I've ever seen. They took the time to make sure everything was done right and were still done by mid-day. I recommend them to anyone who wants an efficient heat pump installed. Thanks, RRHP!!!

Update! My wife and I love our heat pump so much we got a second for the upstairs. Big thanks to Larry and all the crew who did a superb job on installing our Mitsubishi. I tell everyone I know to go and talk to RRHP and have them design a solution for your needs. Our upstairs is now warm and comfortable even when it's below 0 outside. Heat Pumps work really well in the winter too, not just for cooling folks!
Mike J.
9/1/2022: Outstanding job by Royal River Heat Pumps. The team of 4 people arrived on time and got to work. They were professional, knowledgeable, and respectful. When they were done with the installation, they cleaned everything up and went over how to operate my new heat pumps. If I ever sell my house, I will have them back to install heat pumps for me again.
Andrew L.
5/19/2022: Miles came today, on time, and serviced our heat pumps. We were blown away by his work and communication! He was friendly, professional and very clean with his job! We could not be happier and we wanted to say thank you and we will most DEFINITELY be returning customers!! Thank you and thank you so much Miles!!
Evon E.
05/12/2022: My family hired Royal River Heat Pumps to install 4 indoor head units and 2 outdoor units. Dale was our salesman and was very detailed with a layout design that suited our needs and wishes. He even arrived on the first day of installation to relay my families wishes to include the same brand sub panel and placement of indoor head units.

On the day of installation, I worked with Troy, Jeff, Chad, Sam, and Bridget. All were polite, respectful, and professional throughout the entire installation process. The team hid the lines well and minimized the changes to the house. The units and their components were carefully placed and blended in with the siding of the house and landscaping. I was very impressed with their work ethic, professionalism, and attention to detail throughout the installation process. The entire team took the time to listen to my families concerns and explained the work that they were doing.

At the end Troy explained how to use the units and the differences between each head unit.

Chad organized my panel box labels and showed me the shut off and breakers that were directly linked to the heat pumps.

Aaron was quick to respond to fix a problem.

Dave took the time to explain how to use the head units and answer any questions that I had.

Katie even followed up to make sure the rebate form was completed and submitted in a timely manner.

I took the time to research several heat pump providers and I chose Royal River Heat Pumps because of their high quality installation, the high level of professionalism of their crew, their attention to detail throughout the installation process, and their team listening and understanding the needs and concerns of the customer.

Overall I would recommend Royal River Heat Pumps for any future work and it was worth every penny. Their price is reflective of their high quality work.
Derek L.
2/12/2022: All good, and efficient too! From initial contact until follow up post-installation, everything was done as planned. We're very happy with our new heat pump!
Craig D.
2/8/2022: I wasn't sure about the heat pump installation process and I had some questions. I had a different company do a site visit and give me an estimate first. There were questions left unanswered that I didn't even know I had, until Dale from Royal River came. He could not have been more thorough during the explanation and walk through; I immediately agreed to have them do the installation. John and Colby showed up on time, were professional and explained everything. We will absolutely go with Royal River Heat Pumps for our next one!
Aliesha B.
2/8/2022: Everyone at Royal River made for a great business experience that was flawless from beginning to the end. I am very happy with the system that I have and would recommend Royal River to anyone looking to have heat pumps installed. Thanks to the crew at Royal River
Gary L.
2/2/2022: Coldest night of the year and we are warm! Royal River Heat Pumps installed two units earlier this week. Three vehicles, six guys and lots of equipment arrived right on time Monday morning and by the end of the afternoon the installations were complete. Professional, friendly, courteous and very knowledgeable crew - outstanding crew! Everyone was proficient, thorough and made sure we were all set before they left the job site. I highly recommend the company, the crew and staff and the product.
Anne R.
1/28/2022: Hello Andrew, Rosemary and I just wanted to say "thank you" for sending us 4 very polite and totally professional gentlemen to install our new AC Heat Pump promptly at 7:30 this morning. We were very impressed with your RR crew, led admirably by Travis! As of this writing, we have observed a very uniform and all-encompassing heat in our condo. Early afternoon, we received a phone call from our good friend/neighbor, Paul, inquiring about your product and how we liked what we got. After singing yours and RR's praises, he said he was going to call you to set up an appointment for himself and his wife Sandy, as well. Once again, thank you for making our life a lot more comfortable and happier!
Dick and Rosemary
1/20/2022: We had the Royal River crew here this morning installing our heat pump. There were 4 of them and they went right to it. One was nice enough to take the time to let us know the whole process. They are so nice and pleasant. It took around 4 hours and when all installed, one of the guys went over everything. What a great company.
Madeleine G.
1/7/2022: The Royal River crew installed our new heat pumps yesterday! The crew was super- professional, courteous and skilled at their jobs- an efficient team! We are already enjoying and seeing the benefits of our new system.
Gus G.
1/6 /2022: The crew that did the installation were great. Given our condo requirements, it was not an easy installation. We appreciate their professionalism and workmanship.
Kim S.
11/23/2021: I've been sitting here trying to construct an e-mail that is concise and grateful but maybe I just have to come right out with it. From the start my experience with Royal River has been stellar. The office and your 5 field guys are just brilliant. I have not been this enamored by overall service in quite some time.
Evalin S.
11/16/2021: I cannot say enough good things about Aaron, the technician that serviced our two units yesterday in Minot. He was patient and answered all of our questions, and delivered fantastic service. This level of customer service doesn't go unrecognized or unappreciated, especially with the current social climate. He did an fantastic job.

We will most certainly recommend installs and service by RRHP moving forward, without the slightest hesitation.
Steve F.
11/2/2021 From an Efficiency Maine Inspection Report: The people who were here were very professional, they didn't leave a mess. They said "if you have a question don't hesitate to come and talk to us, don't wait because you may forget the question, and if we're making a mess we want to know about it so that we can take of it."

Highly recommend Royal River.
Bob J.
10/22/2021 Positive: Professionalism, Punctuality, Quality, Responsiveness
I needed a complex five-zone heat pump system installed at my home. Royal River was one of several companies that came out to design and quote the system. They gave me a sound design at a reasonable price, and were very friendly and professional throughout. We scheduled the two-day install for a few months later.

On both days of the install, the crew arrived exactly on time, ready to work. They were excellent. They even suggested a couple deviations from the original design that would result in a cleaner, more attractive installation. At the end of the second day, the system was fully up and running exactly as promised.

When I had a question the next morning (my fault, not theirs), the folks in the office investigated and got back to me promptly.

A+ service. If I ever move to a new house, Royal River will be the only company I call to install a heat pump system.
James T.
9/12/2021
Positive:
 Professionalism,
 Punctuality,
 Quality,
 Responsiveness
Outstanding experience starting with my initial phone conversation and continuing throughout the estimate process, scheduling, installation, and follow up!
Paul W.
9/9/21 Positive: Professionalism, Punctuality, Quality, Responsiveness, Value
Royal River came well-recommended, and they lived up to their advance billing. The specialist who looked at our space and provided the quote accommodated our preferences (we sacrificed a little efficiency for aesthetics) and was good to work with. Once the work was scheduled (installation of 2 single-zone heat pumps), they confirmed the timing shortly beforehand and arrived exactly when we expected them. The installation crew was professional, efficient and left the work areas in great condition. We're very satisfied!
Jim G.
9/7/21: Excellent service from initial consultation to installation. At install time, he crew arrived when they said they would, left when they said they would, and left the space tidy each time. Travis, Joe, and Matt were kind and easy to have in the house. Our neighbors even commented about how polite and friendly they were. And we love the heat pumps. Our house has never been so comfortable!
Belinda R.
8/24/21 Positive: Responsiveness
The entire team at Royal River Heat Pumps are amazing and highly recommended! The complete process including the initial site visit, comprehensive quotation, professional installation crew, and follow-up on the Efficiency Maine rebate, was absolutely great! We were fortunate enough to get the new heat pump and inverters installed ahead of the original schedule just before the heat wave the second week of August which we were very grateful to RRHP making this happen! Thank you so much! John and Catherine B.
John B.
08/15/2021: I just need to add to the long list of satisfied customers. We had a very unique need for creative thinking for our install. Royal River was the obvious choice of all bids we sought out and, WOW, did they live up to the task. Took quite a bit of engineering design with a combo of part vented system and mini-split system. An unbelievable experience from beginning to end! As they say, the proof is in the pudding, and when it gets hot with oppressive humidity... this system is perfect! My wife and I are big believers in the concept of success starts from the top! Scott, the owner, was involved right from the beginning because of the unique design needed. From initial contact to office to install, Scott's staff is 2nd to none. You would not even know they were here, they are so clean and efficient! Even the Royal River TV ads are true! Great company and we can't recommend Royal River LOUD ENOUGH!
Mark C.
8/1/2021: Positive: Professionalism, Punctuality, Quality, Responsiveness, Value
Totally positive experience with Royal River Heat Pumps. The price and product are great, and they even arrived early on the scheduled date. By mid-afternoon, we had an amazing new Mitsubishi heat pump being demonstrated to us by the team.

The installation is top-notch in every aspect and the Royal River team got the install done totally in the background. The heat pump continues to amaze, and Royal River even took care of the Efficiency Maine rebate and the check has already arrived.
Bob C.
8/2/2021: Positive: Professionalism, Punctuality, Quality, Responsiveness, Value
We had Chris out for deep cleaning our 3 zone heat pumps. Chris was thorough, professional, and very knowledgeable. We had our system installed by a different contractor, who also did the cleaning services till now. I can earnestly say the cleaning and system maintenance that Chris did far exceeded our expectations. Chris is an excellent and diligent employee - Thank you Chris!!! cheers, John
John S.
8/6/2021: Positive: Professionalism, Punctuality, Quality, Responsiveness, Value
The folks at Royal River Heat Pumps were extremely professional, the service was timely and they were very considerate of our family. The price was reasonable, I would highly recommend them.
Mary J.
06/15/2021: I contacted Royal River Heat Pumps for a seasonal cleaning service of our two Mitsubishi mini splits. Tech arrived as scheduled and was thorough and professional and personable. Although another company installed these units, I will continue to call on Royal River based on this experience.
Linwood S.
06/12/2021: I just wanted to thank you for the amazing service you provided. Travis and his team were great to work with, they did an excellent job. Any issues that came up were communicated immediately and explained very clearly. The whole team was very professional and respectful of our home. If anyone I know is looking to install a heat pump, I will definitely send them your way.


Geoff and Caroline P.
6/1/2021: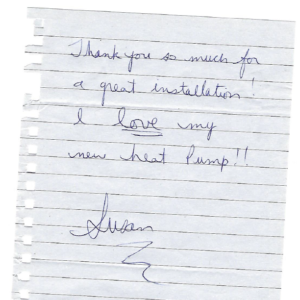 Susan M.
5/27/2021: My wife's and my whole experience with Royal River Heat Pumps was top-notch from start to finish. Larry was likeable, very clear and knowledgeable, and easy to work with. Installation of our Mitsubishi Electric MSZFH15A Unit was a snap, done in a couple of hours last October. It's already saved us a lot of money--our oil furnace is now a backup. In fact, the only times we used it were in the shoulder season when we'd turned the heat pump off and forgotten about it.

It really is a "set and forget" device. A day in the high 80's prompted me to turn the A/C setting on this week, and this unit cools more effectively than it heats! Although our house is old and the rooms small, we get good circulation with doorway corner fans.

The only homeowner's maintenance so far is remembering to clean the filters, an easy task. We are super-glad to have installed the unit, and recommend the folks at Royal River highly.
Stephen F.
5/26/2021: I can't recommend Royal River Heat Pumps enough!! They were so easy to work with! Everyone was so friendly, kind, and knowledgeable. They installed our heat pumps in one day and did a fantastic job!
Jennifer C.
5/26/2021: I have to say that the Royal River folks did an excellent job from the rough-in process to final equipment installation and start-up. The price was very fair and reasonable and they were great in responding to questions or concerns. I would highly recommend Royal River Heat Pumps.
Ed K.
5/25/2021: High quality service and units! Details about what I needed in my new home (new build) and understood I was on a budget, so worked with me on that. Appreciate the speedy replies when I have questions! Love the new units, especially the one I had installed in the ceiling--great to have that option!
Alison S.
5/5/2021: Five burly men arrived at 7:10 AM sharp and went right to work after checking their work plan with me. Each seemed to have their own specific specialty and there was no wasted time in starting up. They were personable, clean and seemingly very knowledgeable - the job was finished ahead of the estimated completion time, We were briefed on operating procedures and provided with relevant contact numbers for future use. They (the crew) were the definition of professional.
Stacy S.
4/29/2021: Thank you so much for your outstanding customer service! You have been wonderful to work with, along with the team who did my install. You are all professional in every sense of the word. Please feel free to share this with your manager and tell him you deserve a raise!
Paul A.
4/22/2021: They installed 2 split systems with 5 heads in 2 days. Communicated when they were coming, reminders and showed up as expected. Day one was a large crew to get most of the construction done. Day two was 2 guys to finish hooking it all up. The whole team was courteous, professional and did quality work. They even did all the Maine rebate paperwork for us. Very pleased with the whole process.
Dale S.
4/21/2021: The Royal River teams that we dealt with were fabulous!!!!! The office team was so helpful in setting up and scheduling our heat pump installation. We had to adjust the schedule a couple of times and the office team was so helpful each time we had to make a change.
The sales person was very helpful in helping us decide the optimum arrangement for our system. The salesperson showed up on the installation day to review with both us and the installation team any further questions that we might have.
The installation team was wonderfully adept at their installation and kept us abreast of any issues they were dealing with. The installation was completed in one day (it was scheduled for two days). The installation team did such a GREAT JOB and provided some very helpful directions to show us how to utilize our new heat system.
This company's team was EXCELLANT in all manners and we are so GREATFUL to have worked with them.
Kent H.
4/21/2021: From the initial consultation, which helped us decide our needs, to the final installation the service was on time, professionally done, with all folks friendly and helpful. Couldn't be more pleased.
Natalie C.
4/21/2021: I cannot recommend Royal River Heat Pumps highly enough. We built and moved into a new home Fall, 2020. Our aim was to build an energy efficient, low maintenance home. Our contractor recommended a Heat Pump system for our heating needs and recommended Royal River. I was highly skeptical of a heat pump system. Royal River was great, patient and willing to spend plenty of time explaining and demonstrating the systems. Scott Libby was very professional, answered all my questions and adjusted the design to meet our needs. Much of my hesitation was based upon simply being unfamiliar with today's heat pump systems and their capacities. Royal River installed our system from the ground up and we have come through our 1st Maine winter. I have never been warmer inside a home than I was this past winter with the heat pump system. We do not have a secondary heating system but for a gas fireplace used for "ambience". The heat pumps more than sustained us very comfortably. In addition, the air quality is noticeably cleaner. I cannot say enough good things about the system (Mitsubishi) or Royal River Heat Pumps. And I have never been motivated to write a Google review before. This product and this company have earned it - both terrific.
Vilean T.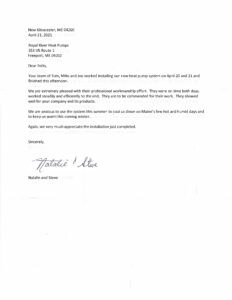 Natalie and Steve C.
4/21/2021: Your staff was wonderful. A great experience and I will highly recommend your company to any of my neighbors who may be looking for a heat pump.
Patricia S.
4/20/21: Showed up on time, did a very professional job, and left the work site tidy and neat.
Nate H.
4/20/2021: Royal River Heat Pumps did a great job! The technicians did an excellent job of installing a hybrid hot water heat pump. There were very professional and were very accommodating to our needs. The process of getting a quote and scheduling the install was smooth as silk. I am very happy with their service and would definitely recommend them for your heat pump needs.
Mark H.
4/16/2021: Thank you for the outstanding service! I want to especially point out how professional and efficient your team of installers were during the installation of the heat pumps. From the beginning with Adam, through final installation with Troy, Justin, Josh and Mike, all work was performed with the utmost care and respect for the property and the customer. I will certainly use your name when discussing heating/cooling options with friends and family.
Dan F.
4/14/2021: I want to say that your teams have been just wonderful to work with. Steve dropped by Monday Am to review with the installation team the various issue that we had talked about. He was absolutely wonderful to work with.

The three installers were fabulous. They were polite, hard working, and very helpful with the many questions that I had for them. The installation met and exceeded all of our expectations.

Aly was so helpful in handling our various schedule changes due to other issues that were going on in our world. She was wonderful to work with.

We really appreciated the professional and friendly people that we dealt with during this installation.

Please thank them all for us.

Thank you.... Thank you .... Thank you
Kent and Joleen H.
4/5/2021: I wanted to thank and commend the crew who did the work at my home today. They were polite, efficient, clean and prompt. This being my second install, I am pleased again with the work. Please let Scott know the work was fantastic.
Andrew M.
3/18/2021: I endorse all of the positive things said by others about Royal River. Professional, Informative, On time, Good team work. They went the extra mile in providing follow up maintenance advice and arranging for the applicable rebate. Visiting their headquarters I was impressed with the team spirit and competence I sensed everywhere - a sign of good management. In the first week my two heating units feel good but its too early to assess the cost benefits.
Paul D.
3/15/21: Royal River was extraordinary. We had a heat inverter installed, and the installation was beautifully done. These are real professionals. I cannot recommend them highly enough.
Neal G.
3/14/21: Our entire experience with Royal River Heat Pumps was perfect from the very beginning. Setting up the appointment was easy and efficient (the entire front desk team, Gen, Aly and Zoe are ALWAYS helpful). They provided realistic expectations about time frames. Our salesperson, Dale, was incredible! He used to do installations (we had two heat pumps placed in our home) and was very knowledgeable about function and placement of the heat pumps. The quote came in well below what we were expecting AND they have someone who handles the rebate from start to finish (thank you Aly). All of the technicians and the master electrician were extremely professional and efficient. Thomas, Mike and Chad truly went above and beyond. Chad even briefly repaired an exposed electrical wire we had on our circuit breaker which was a safety issue. Truly, above and beyond! WE highly recommend this company and it's the first time in a LONG time we've had this kind of customer service.
Brian H.
I cannot express how happy I am to have had Royal River Heat Pumps install my system. Everyone that was involved, and I really mean everyone, truly love what they do and it shows. They all worked awesome together as a team and had a good time doing it. They explained everything before they left and even left my place cleaner then before they got there!
Lynn M.
I recently had 3 heat pumps installed and the entire process from the estimate to the installation was quick, professional, and informative. Each person I spoke to throughout the process was extremely friendly and helpful. Come installation time, the crew was punctual and worked efficiently, having all 3 pumps up and running in less than a day. I love my new heat pumps and highly recommend Royal River Heat Pumps to get the job done!
Brooke S.
Royal River Heat Pumps installed two Heat Pumps for us and we couldn't be happier. The four men showed up on time on the coldest, windiest day of the year. They answered all of my questions and gave suggestions for a neater more efficient install. They paid close attention to detail and made sure everything was level and square. We are enjoying the heat from our new heat pumps and looking forward to the cooling function this summer. Overall an excellent experience. I would highly recommend Royal River Heat Pumps.
Bob C.
The heat pumps seem to be working just fine. The installation crew was very professional and polite. The installed units look great. It was a positive experience all the way around, from Steve Bergeron, who did the assessment and quote, to the installation crew, to Aly and Gen. During the installation I had several conversations with Andrew, Travis, and Chris. All helpful and informative. I've had a conversation with a neighbor about the heat pumps and have and will promote Royal River should they decide to consider getting heat pumps for their residence.
Paul P.
I would highly recommend Royal River (Heat Pumps.) Thank you too Dale, Gen, Mike, Joe, and Thomas.
Glenn T.
I would highly recommend using this company for all your heat pump requirements - from new installs to service. Their customer service is second to none, their employees are professional, courteous, with outstanding work ethics. They recently completed installing three new units in my home. They showed up on time and when they said they would. They threated my home with care and cleaned up behind themselves. They made sure to explain the system operation in great detail and that I was satisfied and all my questions were answered. It was refreshing to find a business that truly cared about their customer.
Dale G.
We just had our heat pumps installed this week by Royal River heat Pumps. It was absolutely top notch work from start to finish. the estimator was exactly on time, gave excellent information and options. The installers were careful and did work that was of craftsman like quality. it was clear they liked doing a good job and were good communicators with us, the home owners.
Just absolutely as pleased as could be with this company and its associates.
Frank P.
Royal River has been a pleasure to work with. Their entire staff has been extremely responsive and professional, and the heat pump system and HPWH they installed have been great so far.

From my initial contact seeking a quote to an in-home consultation and full proposal only took a week, and they priced out multiple options as I requested. Once we picked the configuration we wanted, we were under contract and had a scheduled install date without any hassle.

The day of the install came, and the whole crew showed up bright and early on a chilly February morning to get us setup. They installed the HPWH and three single-zone heat pumps in a single day, and I didn't even notice when they cut over the new electric sub-panel to power them all. The crew was friendly, careful about wearing face coverings, and very professional. The install was quick and looks great.

We are very pleased with Royal River Heat Pumps! We'll definitely be recommending them to friends.
Jason B.
This is the way a business should run! Completely professional from first phone call. Excellent sales/site reviewer and very friendly, helpful staff. The installers arrived promptly and were gone within 3 hours. They worked in very frigid weather and were cheerful! Add neat, knowledgeable and pleasant. They helped move anything in their way and even shoveled some snow! I'm hard to please but was impressed with this work. Would definitely recommend them and/or use them again. Can't speak for their prices because I was impressed enough not to be concerned. As for the heat pump itself, still getting used to it but I feel confident that there will be easy access to help if I need it. Kudos.
Claudia and Abby S.
I chose Royal River Heat Pumps to install mini splits at my new home as the primary heating and cooling system. I knew they were the best local contractor because I worked here in Maine almost a decade for the State agency that provides rebates for qualified heat pumps as a quality assurance inspector. I had seen hundreds of installs by various contractors and found Royal River Heat Pumps was consistently doing the best job and leaving customers so happy they couldn't say enough about the great experience and ongoing satisfaction with the product and installer. I now have 4 heat pumps that run smoothly and keep us comfortable all year. We had one of the units had a small issue but it got fixed soon after we reported the issue. I'm currently finishing space in my basement and will be adding one more heat pump.
Steve B.
2/8/2021: First let me say you are very good at your job. We really appreciated how thorough you were and not once were you pushy or tried to over sell us. We have decided to move forward with your company.
Dave W.
Working with Royal River to install a heat pump at my home was a great experience from the first phone call to the day my heater was installed. The estimator came exactly on time (masked) and went through my home and yard to figure out the best place inside and out for the heat pump equipment. He gave me a quote the very next day and I got on the schedule for installation. The installation crew arrived on time (all masked), and had my entire system done in half a day. They put drop cloths on my floors inside and cleaned everything when they were done - it was like they'd never been here, except for the brand new, quiet heat pump mounted on my wall. They even took care of getting my rebate! I love my new system - I've had heat pumps before but this new one is much, much quieter - outside you can barely hear it.

Now I'm looking into a heat pump water heater, which will also help dehumidify my basement. I'm getting a quote from Royal River, and will use them for any future heat pump projects.
Anne G.
I found the salesman to be very knowledgeable and willing to discuss my needs until all the questions were answered. The installation crew were very professional, explained everything they were doing or were going to do on that day, very courteous, very safe (always wore masks), polite and always cleaned up after themselves. 6 man crew the first day and they appeared to be a well oiled machine, they all worked very well together. A1 services in my opinion!
Larry M.
Royal River Heat Pumps installed two heat pumps in our upstairs bedroom during a remodel, and helped fix two ceiling units on our first floor. They were incredibly easy and polite to work with, they were quick to schedule, and their installation crew members were clean, professional, and swift. Overall, I highly recommend this company.
Donna R.
They were professional, they worked really hard, they kept their commitment when they said they were going to be here, they did a great job for us! They let me stand and watch them and explained what they were doing and what it does, it was pretty educational for me!
Robyn C.
From estimate to installation to clean up everyone was very professional, friendly and thorough. The crews worked very well together. Everyone adhered to COVID protocols and made sure flooring and furniture were well protected. Would highly recommend Royal River Heat Pump to anyone looking for a new system.
James A.
Great job! The team arrived at the scheduled time and went right to work. Everyone had a job and worked independently. Very quickly the heat pump pieces were placed on the pad they provided and the interior units were installed on the walls. Within a few hours they had the system assembled and started the testing process. By 2:30PM they were done and cleaning up (very thoughtful about putting down dropclothes to catch the dirt, dust, and sawdust). They fired up the system and gave us a walk-through of how it worked plus they offered advice about how to run it to save money! All of the team members were polite and considerate of the pets and the property. Very impressive job by all involved and it really throws off a lot of heat!
Doug F.
We called Royal River Heat Pumps because we wanted to know how much they would charge to add a hybrid heat pump water heater to our current system. Their system designer Larry arrived on time, was masked, maintained safe distancing, and was incredibly professional. In his opinion, our best option was to go in a completely different direction than what we originally thought, saving us at least $2,500 in the process.

Thanks, Larry - and we can't wait to call you again for the next phase!
James O.
Very happy with the heat pump. We are also very happy with Royal River Heat Pumps. They were very good to work with. Very professional.
Jacqueline H.
I chose Royal River after receiving a couple of estimates and couldn't be happier with my choice. From working with Larry to come up with an estimate to the work performed by the crews all went better than expected. Everyone was very friendly, professional and knowledgeable in the work that needed to be done. I would highly recommend Royal River Heat Pump to anyone looking for a ductless system.
James A.
Our experience with Royal River has been very satisfying. Everyone that we dealt with has been totally professional and very capable. During the initial visit with the engineer he listened to what our goals were and then gave us his advice and recommendations as to what needed to be done. We had two wall mounted heat pumps installed back in 2017 and everything has worked out very well. The installers are great and really pay attention to detail. This past fall we got rid of our monitor heater and wanted to put a floor model heat pump in the corner where the monitor was. Once again the whole process went very well. It was a challenging location for this heat pump but they sent the service technician out a couple times to advise us on the best way to run the unit in order to get the heat out of the corner and into the room. It has been working out great for us and we are totally satisfied. I would highly recommend Royal River. Our experience with them has top notch.

Dick and Karen J.
Thank you for that thorough follow up. Let me say that your crew did a fabulous job getting the heat pump installed during a blizzard last Thursday and did so leaving the condo cleaner than my daughter does when she just walks in from the snow. She told us what a professional crew you have – she spotted it immediately and is very appreciative of the work and explanation about the new system.
Tom E.
We are happy with the work that was done at our house. We are looking forward to being warmer in the winter and cooler in the summer with a lower oil heating bill.
Jim W.
On a scale from 0-10, how would you rate your overall experience with this project? 10! Why: Fantastic! It was an easy process, we love our heat pump, and we love that we could get a rebate for
it!
Anna C.
Royal River was extremely professional, courteous and super easy to work with from estimate to invoice to rebate submittal.

Gen and Dave in the office kept me informed and were extremely diligent with paperwork and overall project success ' happiness. They handled everything remotely from calling in advance of install to submittal of the rebate forms.

The field team came COVID-prepared, introduced themselves and answered every question in detail.

The field installation team used drop clothes, swept up and wiped down the walls leaving my houses cleaner than it was upon their arrival.

Their prices are super competitive. Along with that comes their expertise and a great Mitsubishi product.

When looking to install heat pumps, only call Royal River Heat Pumps.

100% satisfaction guaranteed with product warranty !!


Rob B.
The employees have been amazing to work with from the beginning. They are very professional, sincere, and most importantly they have superb knowledge which made us feel very confident that we chose the best company and the best product that met our household needs.. They take their time with helping you fully understand their products, and they do not try to sell you something you do not need. A great company, great staff, who stand behind their product. They made this process so seamless. Kudos to the entire staff, keep doing great things. We are so happy with our wall unit, it is amazing.
Jody H.
Royal River Heat Pumps exceeded my expectations. They have excellent customer service and a great installation team. I highly recommend them. My new heat pump is awesome!
Tim O.
We are very pleased with the heat pump so far. We can't say enough about how effective and efficient your installers are. Rick, Mike and Sam were very easy to work with and left the worksite neat and clean. They, plus Larry, are excellent ambassadors for Royal River Heat Pumps.
Lynn P.
I want to let you know how pleased I was with your crew that installed the heat pumps; Very professional & super nice. My golden retriever inserted himself into the crew for the day. They were so good to him. I am pleased with the heat pumps.


Narda H.
The guys were friendly, asked before moving things I had accidentally left in the way and cleaned up any mess. The installation was seamless from our perspective, and very quick. We appreciated how they gave us an estimated time of completion, too, so we could plan to be available for an overview. The overview was detailed enough so we could confidently use both heat pumps. We've been very happy with them so far.
Laura M.
I highly recommend Royal River Heat Pumps For your heating/cooling needs. Their level of professionalism, knowledge and safety is second to none. This was the second time we used RRHP and couldn't be happier with the product.
Julie M.
I had no idea how much I needed these in my life until they were installed. What an amazing improvement in overall comfort and quality of life! It's always the perfect temp in every room, heat pumps are much less obtrusive and CLEANER than baseboard, radiators, monitors, or vents. Not having to haul the AC units in and out of the basement anymore (or having those ugly, noisy things blocking light and hanging out of the windows all summer) is also pretty awesome. Service from the entire staff was professional and the price is right. We are already saving on our heating and cooling bill!
Alanna Y.