Thank you for viewing our archive. Ripple to River has highlighted the following Maine-based non-profits each month that focus on supporting children with critical illness. Even though they are not currently highlighted this month, they still need your help.
Even a small, individual act of kindness can "ripple out" into something significant.
At The Barbara Bush Children's Hospital children receive care that's as unique as they are. As Maine's only full-service children's hospital, they offer everything from well-child visits to specialized medical and surgical treatment of complex illnesses and injuries.
Children – and families – receive care that's responsive to their unique needs. Their network of doctors, nurses and other medical professionals are committed to including parents and family members as part of the care team – it's what they call safe patient and family centered care.
The Barbara Bush Children's Hospital at Maine Medical Center (BBCH) is large enough to provide all the advanced specialty services and state-of-the-art technology your child may need. Yet they remain small enough to deliver intensely personalized care that's responsive to each child's – and family's – unique needs. In fact, they consider parents and family members to be integral members of each child's care team. Because that's the way pediatric healthcare should be.
But most importantly, they treat children, like children.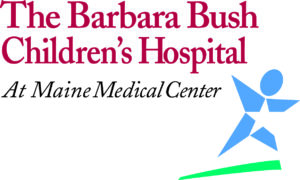 Listen to the Maine Points Podcast with The Barbara Bush Children's Hospital from Newsradio WGAN, AM 560, FM 98.5.
Founded in 1984, Camp Sunshine provides retreats combining respite, recreation and support, while enabling hope and promoting joy, for children with life-threatening illnesses and their families through the various stages of a child's illness.
Camp Sunshine's program is offered year-round and has the distinction of having been designed to serve the entire family in a retreat model. The program is free of charge to families and includes on-site medical support. A bereavement session is also offered for families who have experienced the death of a child from a supported illness.
In-Person Programming
Camp Sunshine is a place for all seasons; families from all over the United States, Canada and other parts of the world make the trip to our unique retreat on beautiful Sebago Lake in Casco, Maine.
Traditionally, Camp Sunshine hosts as many as 25 sessions each year with sessions happening during all seasons.
Families have the opportunity to enjoy a wide range of activities with as many as 40 other families.
Camp Sunshine offers programs for families with a child 18 and younger who has:
• Cancer
• A brain tumor
• Renal disease
• Solid organ transplant recipients
• Sickle cell disease
• Other hematologic conditions
• Systemic lupus erythematosus (SLE) (age 21 and younger)
• A bereavement session is also offered
Camp Sunshine also offers specialized programs for families and individuals with:
• Fanconi anemia
• Diamond-Blackfan anemia
• Shwachman-Diamond syndrome
• Dyskeratosis congenita / telomere biology disorders
Camp Sunshine continually receives distinctions from industry related resources that strive to provide high-quality information to the public in order to make informed giving decisions.
These various distinctions show that Camp Sunshine embraces high standards of accountability and transparency while remaining true to our mission.
• Charity Navigator 4-Star (the highest possible rating)
• GuideStar Gold Seal of Transparency
• Top Rating by Great Nonprofits
• Accredited by the American Camp Association (ACA) and Children's Oncology Camping Association International (COCA-I)
CRL's Mission is to provide prompt, creative solutions that improve the quality of life for children with life-threatening medical conditions.
Their purpose is to fulfill the vital needs of children with life-threatening medical conditions in a timely, effective and creative way. To ease the burdens of critically ill children and their families through prompt and creative solutions to urgent, unmet needs, and to the maximum extent possible, enable these children to live their lives in dignity and safety.
CRL provides services or equipment to improve the quality of life for critically ill children.
Some examples of items provided by CRL:
• Special body-positioning seating and equipment
• Adult size walker with seat and hand brakes
• Wheelchair with leg rests
• Storage cabinets with bins
• Infant Dr. Brown bottles and special baby formula while families wait for WIC assistance
• Bathing chair
• Special needs stroller
• Special need tricycle
• Pulse oximeter
• Portable oxygen capability
• Therapeutic mobility equipment
Visit crlmaine.org for more information
The Center for Grieving Children is a nonprofit organization that provides a safe space, loving peer support, outreach, and education to grieving children, teens, families and the community. With locations in Portland and Sanford, and online, they provide completely free-of-charge services for children, teens, young adults, and their family members throughout southern Maine.
Tender Living Care
Helping families cope with serious illness
At the Center, they know that from the point of diagnosis, a life-impacting illness affects everyone in the family. The Center's Tender Living Care Program provides Peer Support Groups for children ages 3-18, with separate groups for the adult with the illness and the adult caregiver, and young adults age 19-30. Group members find TLC is a safe place where common issues and feelings can be explored. For adult participants, in addition to social and emotional support, TLC can also assist in finding sensitive ways to communicate with your children about the challenges and loss that come with a diagnosis of serious illness.
Bereavement Program
Support & resources when someone close dies
Expressing feelings in a safe place is part of the healing process after a death. At the Center, children, teens, young adults, and adults benefit from a supportive environment where they can be with others who have experienced similar losses. The Center's Bereavement program provides peer support groups for children ages 3-18 and their parents and caregivers; young adults ages 19-30; and bereaved parents and young widowers/partners.
Intercultural Program
Creating healing communities for our youth
Since 1997, the Center's Intercultural Peer Support Program has collaborated with Portland Public Schools and others to serve children, teens, and their families who have resettled locally from countries experiencing war, persecution, and natural disaster. Children's Peer Support Groups are held at the Center, area schools, or other organizations. Intercultural Peer Support promotes healing from grief and contributes to school success by increasing children's coping skills, building positive peer relationships, improving self-confidence and supporting the acquisition of English language skills.
Outreach and Training
Education and response for schools and community
When the school and community is impacted by the death or serious illness of a student or staff member, The Center for Grieving Children is available for school visits, phone support, or on-site visits. The Center staff can offer support and resources to staff, talk with and answer questions from students, and help provide the resources needed to help the school and its community grieve in a healthy way.
Phone & Email Support
One-on-one support for those in need
Have a question? Just call ! They are here during regular business hours to answer your questions and offer you support. Their highly-qualified staff take thousands of calls each year from people wondering "How should I tell my child about a death in the family?" or "How do I help my students after the death of their classmates?" or "How do my children and I join one of your groups?" If you have a question or concern, please don't hesitate to reach out.
Volunteer with the Center for Grieving Children!
Interested in getting involved with the Center for Grieving Children?
Want to learn more about facilitating in their Bereavement, Tender Living Care and Intercultural peer support grief groups or learn about other ways you can give back? Be a part of the next interactive virtual volunteer info-session!
Visit the Center's website to learn more about their programs, and email [email protected] to save your spot in the next session! All are welcome to attend to learn more, even if you are unsure that you can commit to volunteering in the immediate future.
Maine Children's Cancer Program (MCCP), the pediatric oncology program of The Barbara Bush Children's Hospital at Maine Medical Center, is committed to providing comprehensive care to children with cancer and blood disorders in Maine and parts of New Hampshire. Our team of pediatric oncology/hematology physicians, specialized nurses, social workers, research associates, a child life specialist, and a dedicated pediatric oncology clinical pharmacy specialist work together to provide care that incorporates three integrated components: state-of-the-art medical treatment, psycho-social support services, and clinical research. With approximately 50 new oncology diagnoses each year, 200 of whom are on active treatment at any time, along with about 150 children being followed for a variety of blood disorders such as hemophilia and sickle cell disease, MCCP fills a need in our state, providing excellent care in a closer-to-home setting.
Visit mmc.org/mccp for more information.

Listen to the Maine Points Podcast with Maine Children's Cancer Program from Newsradio WGAN, AM 560, FM 98.5.
Make-A-WishⓇ creates life-changing wishes for children with critical illnesses. Since 1992, we have granted nearly 1,700 wishes. This coming year, the organization expects to grant the greatest wish of over 75 seriously ill Maine children, which is an average of one wish every five days. All money raised in Maine stays in Maine. All wish expenses are fully covered by Make-A-WishⓇ. Make-A-WishⓇ Maine is a 501(c)(3) tax-exempt organization, and all contributions are tax-deductible. The Maine chapter has over 200 volunteers statewide and a staff of eight. Our office is located at 66 Mussey Road in Scarborough. For more information about Make-A-WishⓇ Maine, visit www.maine.wish.org and discover how you can share the power of a wish.
Wishes replace a child's fear with confidence, sadness with joy, and anxiety with hope. Wishes give children renewed energy and strength, bring families closer together and unite communities.