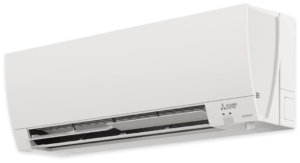 IMPROVED PERFORMANCE INSIDE AND OUT

DUAL BARRIER COATING
The patented Mitsubishi Electric Dual Barrier Coating prevents dust and dirt from accumulating on the indoor unit – keeping it cleaner year-round.
DUAL BARRIER MEANS:
LESS MAINTENANCE
The coating is applied to the heat exchanger, vanes and ducts, and to the blower wheel of the indoor unit, which means reduced labor intensive maintenance.
BETTER AIR QUALITY
Collects 1/10th of the dirt compared to non-coated components after 10 years of no cleaning maintenance.
IMPROVED EFFICIENCY
Dual Barrier Coating on the heat exchanger, air ducts, vanes and blower wheel helps keep key internal heat pump components clean and working efficiently.
EFFICIENCY IMPROVEMENTS:
SEER UP TO 33.1
HSPF > 12.5
EER > 12.5
COP AT 5°F > 2.0
HYPER-HEATING HELPS YOU STAY COMFORTABLE.
Mitsubishi Electric's Hyper-Heating INVERTER® Plus systems feature the most advanced heat pump technology for delivering exceptional heating performance – producing 100% heating capacity down to -5°F.